While eclipses have been observed and tracked for milenia, there is something tangible about looking up and seeing one with your own eyes. Only, it's dangerous to observe the sun without a filter. There are countless unsafe ways to observe and I have seen many of them at various eclipses – a smoked piece of glass, stacks of sunglasses, or through a mylar balloon (do not observe the sun with these if you value your vision!). When friends at Astronomers Without Borders found out I'd be coming to India for this eclipse, they offered to send some of the 2 million solar viewing glasses they'd collected from the 2017 eclipse here in the US. Even 2 million is a drop in the bucket compared to the number of Indians in the path of the eclipse, but I fit as many as I could into my suitcase and enlisted the help of monks and scientists to help me get them out to the surrounding community in Mysore.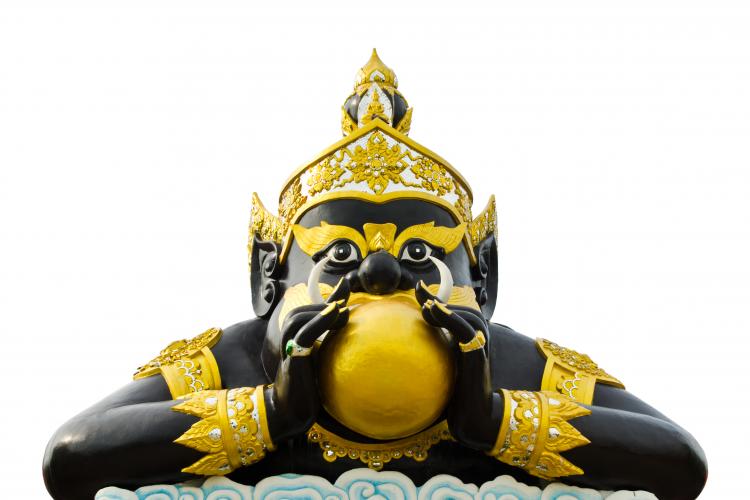 There are fears about eclipses present all over the world. It is believed that they spoil food, cause birth defects, bring bad luck. Before they were understood, it must have been terrifying for the sun to suddenly get dark or even for the shadows to start acting weird. Solar eclipses happen so rarely in any one place that these stories often get passed down from grandparents and carry some of the magic of legends and superstitions of an older era. Even some scientists who understand the geometry wouldn't want to offend their grandmother and eat during the eclipse – just in case.
In the main town of Mysore with help from our monk guide, Setan, we approached three elementary schools and a college nearby, with eclipse glasses distributed to all who were interested. At the second school, we were directed to interrupt a meeting of teachers from 30 different small elementary schools in the local area engaging in a professional development day. Each teacher received 50 glasses and a short training on their safety and how to use them.
Their interest and excitement was palpable but the teachers worried that families would not let their children out to see the eclipse, for fear of bad luck. We demonstrated how to look at the sun anytime, so even if they did not enjoy the eclipse, these tools could be used to observe the sun at other times. I hoped that getting them used to observing with the solar glasses would increase the confidence. We also included a short visual guide with times and what to expect from an annular eclipse.
When the day came, Setan went back to the local school we first visited to see how it went. It was not an official school day, so many of the glasses had been sent home with the families. But some of the students came back to observe too. The shadows of the trees projecting little crescents was a big hit and the glasses had everyone mesmerized.
One of the teachers told us, "Our younger students don't have books or paper to write on. This is an opportunity they will never forget." Thank you so much to Astronomers Without Borders, Seten from the Gaden Monastery, and Bryce from Science for Monks and Nuns for making it possible for students to experience this cosmological wonder of nature. In such a vast country with more than a billion people, dragging a suitcase with even 2,000 eclipse glasses around to students with no shoes can seem like even less than a drop in the bucket. But there's no substitute for wonder and young people know that the best of all. I hope that with these glasses, some of the children stepped out from behind the veil of fear and into a place of awe. Maybe they got to glimpse and appreciate for a moment our unique spot in time and space, passing through the shadow of our Moon together.